ILLUSTRATION 
Reflecting on visual connections to identity, I came up with concepts around silhouettes, mirrors, and masks. I was reminded of the Johari Window to translate into an illustration. The Johari Window is a model that helps us understand our relationships with ourselves and others as we interact with them. It's a visual representation of the aspects of self that are known to us versus those that are unknown to us.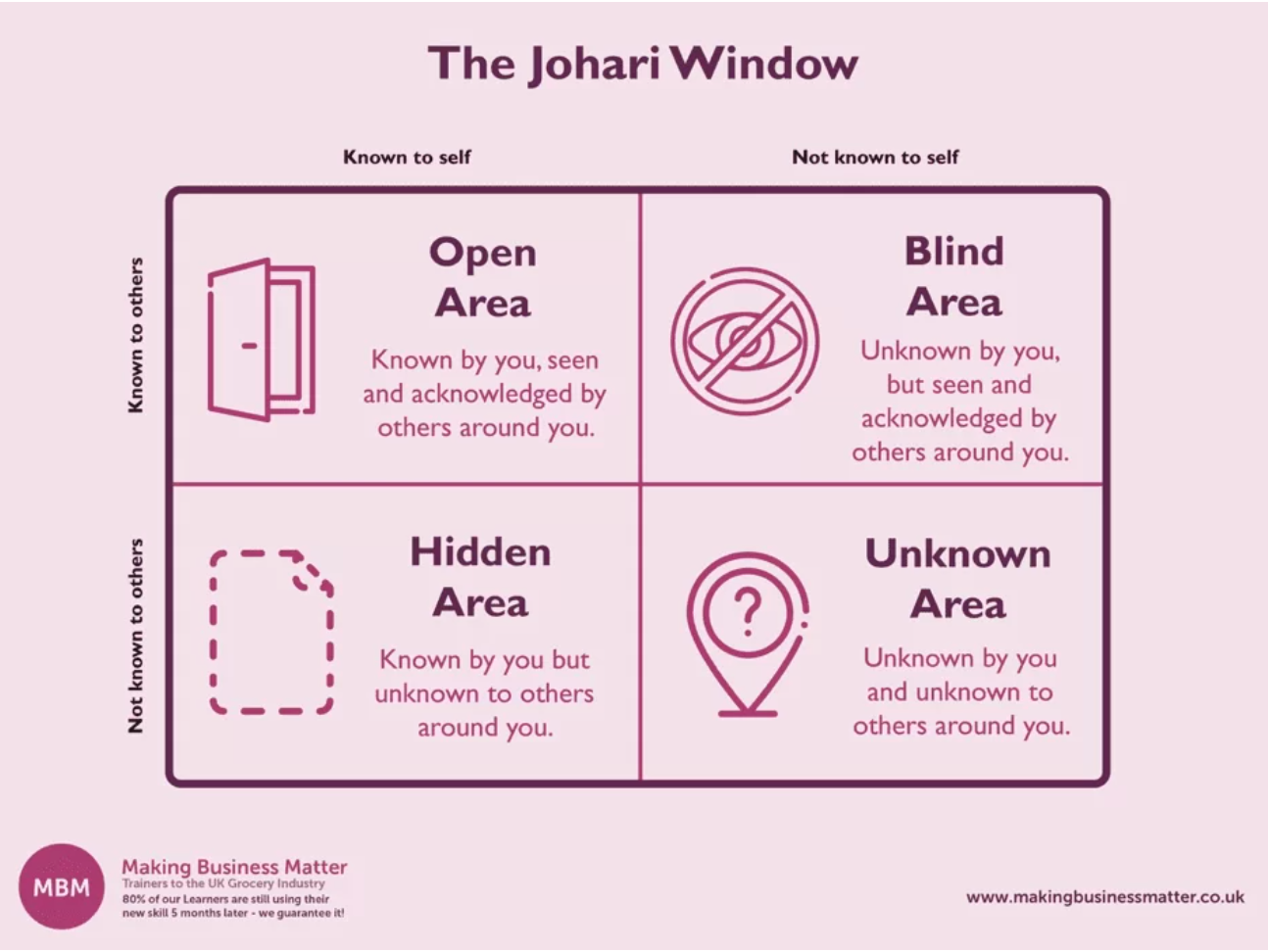 INSPIRATION
I've been thinking about identity more this year since I launched Identity Lab with Lee during my "C is for Community" sprint. In fact, our monthly virtual gathering on "Identity + Positionality" will hit its 4th session this Friday.
Identity is another concept that feels overwhelming to approach within a two-week period — let alone while maintaining a busy workload, a couple of other collaborations, and general adulting activities. 
Identity isn't singular or fixed; it's a multitude of identities flexing based on context. There's the interplay of personal and social identities, of similarities and differences, of consumption and creation. It's about who we are, where we've been, and what drives us forward. 
When I did research on this project, I reflected on what I knew of the topic and what I knew of myself. As I read and listened to podcasts, I made new connections and discoveries. When I searched for the word "identity," I was surprised financial identity theft was among the top results along with the 2003 John Cusack film. When I searched for "art projects on identity," I noticed several results on elementary teachers sharing their lesson plans and blog posts on art projects to help students explore identity. While listening to Andrew Solomon's TED talk, I learned about the concept of vertical, or directly inherited, and horizontal, or independently divergent, identity.
I was struck by this Baltimore Sun article on how research showed "identity projects," otherwise referred to as hobbies, helped kids from poor families in Baltimore finish high school and get on track for better lives.
"What was also surprising was that, while identity work is central to adolescence and the transition to adulthood, for youth this poor, it was more than that. It was a means of survival, a spark to ignite grit in the face of daunting neighborhood violence, underperforming schools and disadvantaged home lives." 
The findings of that 10-year study of 150 young adults — all of them African American and born in the late 1980s or early 1990, had families that resided, at least for a time, in public housing projects. My family also lived in public housing, and sometimes didn't have housing, but I didn't have to worry about violent neighborhoods while growing up. I did experience violence in my own home but I didn't have to worry about racial micro aggressions at school. I can now see how much of my identity was shaped by school. I was engaged in dozens of extracurricular activities throughout middle and high school which helped me obtain an Ivy League education. 
I can now see how easily an identity wrapped up in achievement and engagement in school then translated to the workplace. Derek Thompson in his Atlantic piece on the topic describes workism as "the belief that work is not only necessary to economic production, but also the centerpiece of one's identity and life's purpose." I thankfully began to recover from workism about a year before the pandemic hit but for many others, it's been devastating to lose their identities with their W2s.
I could have researched and explored more on the concept of identity and: 1) I do have the opportunity to explore each month through Identity Lab; and 2) I always need to narrow my focus to produce a project for each Alpha Projects sprint. 
CREATION 
As with other projects, I didn't brainstorm an endless number of options but these came to mind: 
Craft a brand identity for myself or one of my current projects (Alpha Projects, Identity Lab, or Your Move)
Design a new personal website
Create a self-portrait
Make a GIF that cycles through my wearing all of my eyewear
Sketch a figure of myself and then layer a collage of multi-media options to make up a gown, inspired by Jaesuk Kim's Susu Girls 
Build a fashion mood board 
Brand identities were the least appealing now because I have done style tiles and guides around brands before. A new website could be achieved within two weeks but the timing wasn't right. Ultimately, the relationship between fashion and identity felt timely and worth being more intentional about. While not leaving our apartment during COVID, I've been cycling through the same sets of comfortable clothes and multiple pairs of glasses on Zoom calls. Despite wearing barely any of my clothes, I hated everything in my closet. Post-vaccine, I feel light trepidation about what it means to wear clothes and be out regularly in the city. A mood board then is a functional way for me to be intentional around a sartorial re-introduction to the world.
For my take on a fashion mood board, I chose it to represent both a current state and a future vision. I incorporated photos of what's in my wardrobe that I still like and still fits despite any new pandemic pounds. When I scrolled through my phone's informal contact sheet, the clothes I connected with were black with textures, black and white patterns, or bold colors. I didn't pull from my spring/summer clothes since I haven't yet swapped them in my closet yet so there's likely more color and patterns there. Note also I didn't take photos of my UNIQLO x Marimekko clothes or Rothy's pointed toe flats since it's easier to grab a selection of those online.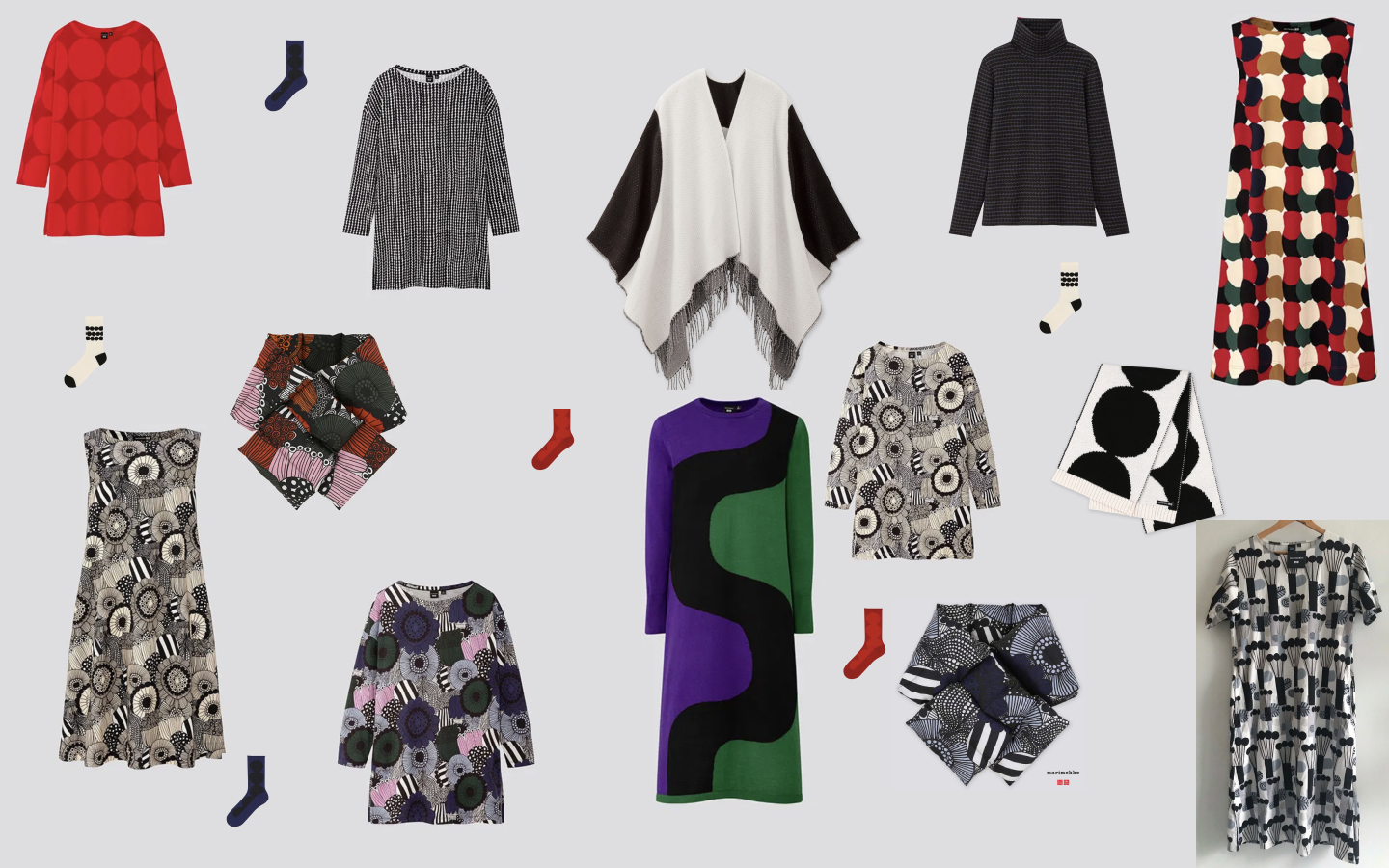 My closet audit revealed these labels, among others:
Alexander Wang
Catherine Malandrino
Torn by Ronny Kobo
Mads Nørgaard
Helmut Lang
& Other Stories 
Alice + Olivia
AllSaints
Cos
Heidi Merrick
Maybe I didn't actually hate my clothes but I needed items in my collection that are effortless and still minimalist yet avant-garde, monochromatic and bold. I've already begun to trade in my architectural high heels and fun pumps for functional flats. I needed more casual and comfortable equivalents for the rest of my closet.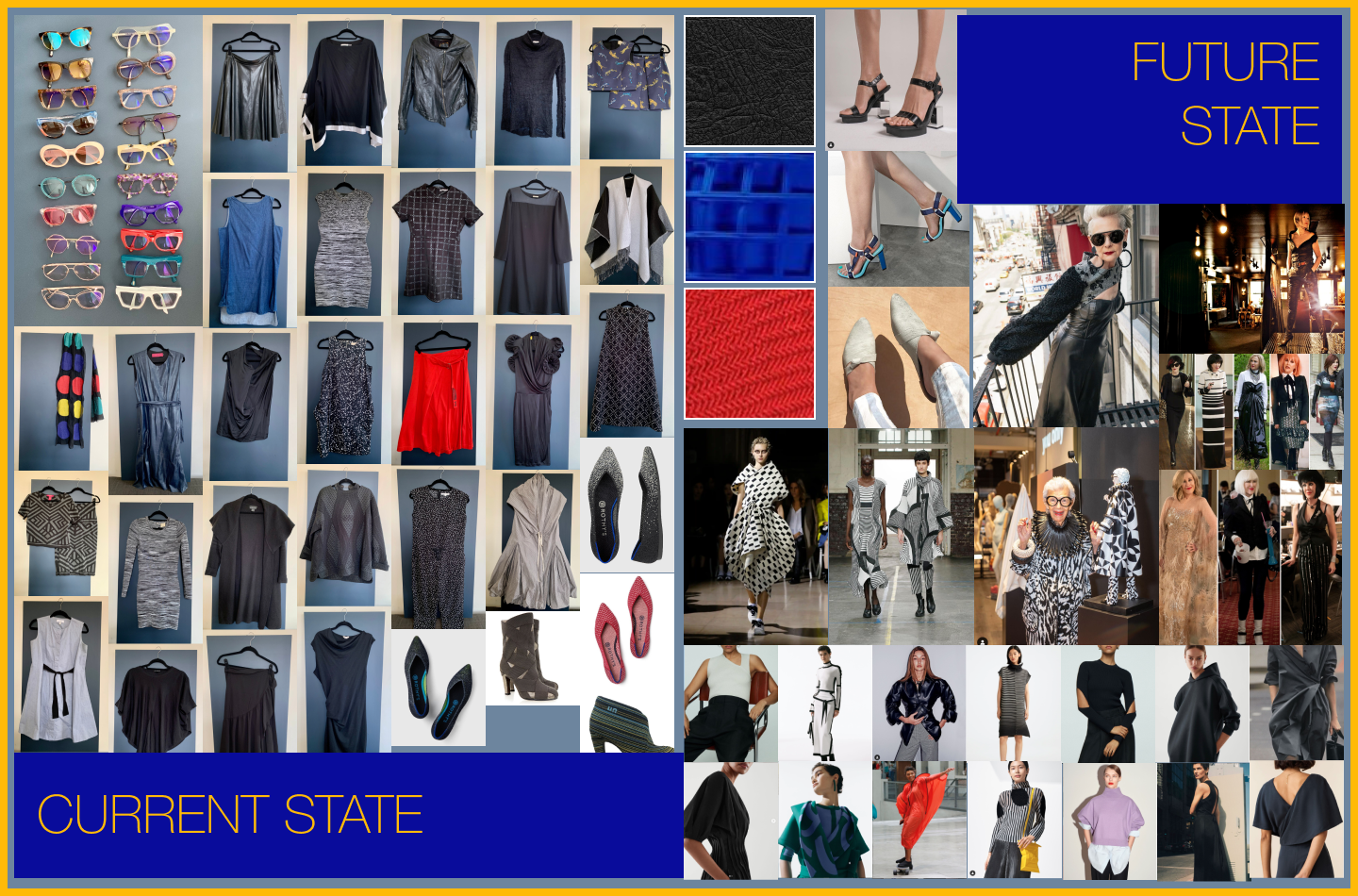 So that's the current state. What about the future? I read it's helpful to have a 3-word rule as a personal style mantra so I came up with: creative, bold, and delightful. 
Building a more intentional clothing collection means also possibly letting go a part of my identity. I've almost exclusively bought clothing from vintage and consignment stores. My family would often shop at thrift stores but I chose consignment racks as an adult because it means I can get better quality threads for far less than retail. Purchasing pre-owned apparel also benefits the environment. 
Once I develop more creative confidence, I may try designing and constructing my own clothing and accessories that could be inspired by exorbitantly priced runway designs or visions from my imagination.
Mood boards can be fun and aspirational so I incorporated GIFs to make mine even more fun! I made this using a Figma template I found.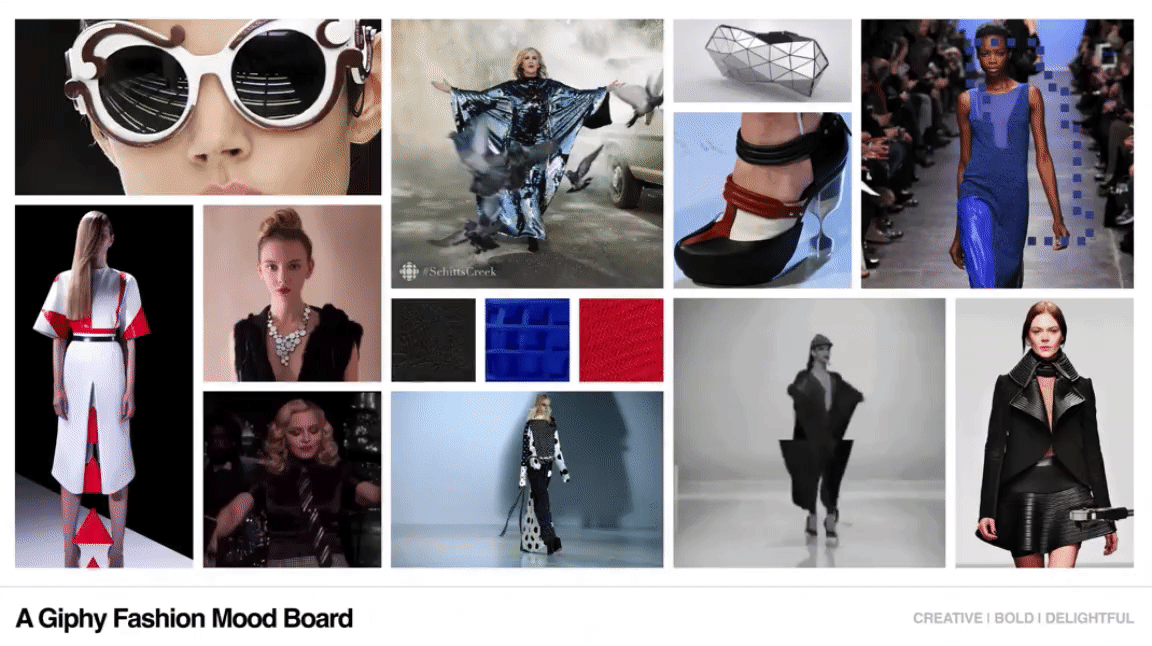 Each day I get further from my 20s. My body will continue to evolve. I'll see fewer models close to my age and it will seem like society will be telling me to go quietly and disappear. Instead I'll start running to what a bold version of me might look like well into my 60s and beyond. I'll channel Lynn Slater aka Accidental Icon, Cindy Gallop, and Iris Apfel. Moira Rose features prominently on the board for that reason.
REFLECTION 
Earlier in the sprint, I had an idea to pursue a fashion-related project and even received positive feedback on that. I ended up exploring more concepts and potential projects around identity before going back to a fashion one. I can save time if I listen to my initial instincts.
CONNECTION(S)
For curated links and other content I couldn't fit into this post, subscribe to the email newsletter.