ILLUSTRATION
The concept of community reminded me of gestalt theory where the whole of anything is greater than the sum of its parts. I loved how this illustration represents the idea with its PAC-MAN-like figures, slightly differentiated, coming together to form a star.
INSPIRATION
I've been thinking about community before this project sprint. In fact, I technically started the project before these two weeks, with my friend Lee Kim. I met Lee at a Service Design Network NYC Meetup and she invited me to be a part of her Design Dream Lab community a couple of years ago.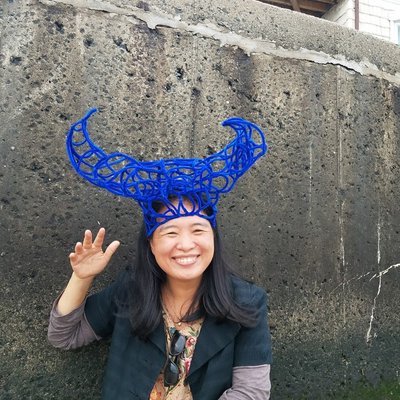 I'm most drawn to the second definition of community (see top) rather than those focused on a "unified body of individuals" or "society at large." The second definition feels more like an action word than a static noun. The word "community" may be a noun but it becomes actualized as a verb.
The pandemic reminded many of us about the critical function of communities and our place within them. I'm a part of many communities but I don't feel like I fit neatly within one.
When I think about others I know, or know of, who have built communities it seems they fall into two categories: either they grew up immersed in communities or they didn't have much of a community. I switched elementary school 13 times growing up so needless to say my parents definitely weren't throwing dinner parties and creating connection.
CREATION
The focus of the sprint was to start a community. Lee and I kept the design lightweight to launch a gathering on February 16.
Here is the timeline of what we did:
February 3: Lee and I built on our prior conversations about what an Identity Lab community could look like and began to plan the first event. We designed this 3Es structure:

EXPRESS: A quick activity to express ourselves and bring us into the moment
EXPLORE: An engaging introduction to a concept around identity for us to consider
EXPERIMENT: An opportunity to try on what we learned and wonder how we might incorporate that into our lives

February 7: Since we decided to launch Identity Lab on February 16, we needed to take care of the necessary logistics. Primarily that meant deciding on the guest list and emailing them the details to confirm their interest. The guest list was thoughtfully curated based on people Lee had vetted through her other communities and based on their expressed or assumed interest.

February 10: The prior week's work gave us list of possible options for concepts and activities to try during the EXPLORE time. I proposed approaching our first session differently by co-creating it. Lee agreed and the remainder of the agenda fell into place. Aside from a few final details, we were ready!
Another word I could have used for the sprint would have been "curiosity." I'm definitely seeing where curiosity leads us in exploring this community and concepts around identity.
REFLECTION
Much of my reflection on this project happened within a broader community.
When Lee started talking about Identity Lab to others, she found many people were intrigued.
Brandon Wetzstein, who collaborates with Lee on another community called Enchanted Playground, brought up the idea of open sourcing the knowledge around community design that has come out of the communities Lee has co-created with others, including each of us. This led to Lee gathering each of these co-creators under the name "Open Sesame." We initially discussed collaborating on a book though we may start with an article.
Those discussions helped Lee and me further consider the communities she had launched prior to Identity Lab and reduce each into its essence and a question to assess that:
Design Dream Lab: vulnerable sharing. Are you willing to share your heart with a community?
Design Thinking Zeal: stories and practices. Are you a design thinker?
Enchanted Playground: playful presence. Are you willing to play?
H.U.G.: intentional gatherings. Are you thoughtful about the experience of those you gather?
Identity Lab: curious evolution. Are you a seeker + tinkerer?
I'm excited to see how Tuesday goes with Identity Lab and how the Open Sesame discussions and collaboration continue to evolve!
CONNECTION(S)
For curated links and exclusive content that couldn't fit into this post, subscribe to the email newsletter.